Tapered Violin Knife:
The knife blades I make are the outgrowth of discussions with the workshop of Sam Zygmuntowicz on the desirable profiles, hardness, and sharpenability of violinmaking knives, and have been influenced by the examination of old, hand-forged, single-bevel, French violinmaking knives.
I believe I have found a heat treatment schedule that really works for violin makers, who require blades that sharpen to the ultimate edge, hold the edge, and are easy to re-sharpen.. My heat treatment uses a deviation from what is found in the literature for O-1 steel. I was lucky to have stumbled upon it. I don't normally keep secrets, but this is one I am going to save for a while. I have consulted with an award winning metallurgist, Dr. Richard Fields, who confirmed that I am indeed on a good path with my heat treatment schedule.
Terry Borman, violin maker in Fayetteville, Arkansas, said this (July 26, 2016):
"Thank you for the blades, the steel is very unique. When cutting it feels like there's a lubricant making the cut smoother and cleaner. When I've compared Japanese and German blades to yours under a microscope, even though sometimes I've spent more time getting a mirror edge on theirs, yours still cuts smoother. Thanks for the great work!"



The price of the tapered knives is $50.00 plus postage. If you wish to purchase a knife, either 9 mm, 12 mm, 16 mm or 19 mm width, please send me an email and I will begin working on your order. jpschmidt44[ATSIGN]gmail.com
I also make knives of rectangular cross section, similar to the standard violin knife. My heat treatment renders these knives better than the Japanese knives that can be found in the price range $20 to $30.
Comment from Andrew Kochie, Clinton, UT, USA, violin maker: "Your knives have replaced my Damascus steel Japanese knives that I have used for years. Your knives hold an edge longer and save me time from having to sharpen more often."... and after receiving the cryo treated CPM-3V knife... "This steel... AMAZING - I'm absolutely blown away."
Comment from Luis Manfio, viola maker in Brazil: "Hi John! I received your knife, honed it in my Japanese water stones 6.000 and 8000 and, WOW!!! Fantastic knife!!! It 'sang' in the water stones. Only good steel sings in the water stones."
Comment from Jesse Pherson, Ann Arbor violin restorer: "Hi John, I've now used your knife for 2 weeks straight doing bridges and other things as needed. I can now say I'm sold on your knives. I plan on getting several plus another bridge knife as a spare. I'd say that the knife you sent me is better than my Japanese knives!"
Comment from Doug Yule, Seattle, WA:: "Thanks, John. I love the knives I have and I look forward to the new ones. I never miss an opportunity to tell others how well they work."
Comment from Feng Jiang, Ann Arbor, MI, USA: "Many thanks! Please let me know if I can help in promoting these good knives to violin makers." (Feng uses a non-tapered traditional design.)
Comment from Anthony Lane, Petaluma, CA, USA: "The blanks arrived a couple days ago, and so far I am very pleased with them. I want to grind and sharpen them myself just to see how the steel works, but the cutting edge as you sent them is marvelous."
Comment from Paul Belin, Maintal, Germany: I hope it's OK to do some little ad for a member... If not please remove this post.

I got knives from John Schmidt a couple of months ago, and I want to say I am really amazed by the quality.
They are extremely stiff, which I like, and they don't chip, which I like even more. I have a big knife that I would normally only use for fitting bridge feet. I fitted two bridges with it, but between the first and the second I gave the blade a hard time. I shaped the top nuts and saddles on the two instruments, and did all sorts of other unfriendly stuff. Still fitted the second bridge without a problem. Not a dent in the blade.
Right now I'm shaping a cello top nut, just finished the saddle, and that doesn't work if the blade is blunt. Now there are a couple of dents so I'll sharpen it before doing the bridge,but I have used almost only this knife for the last 2 months, and didn't have to sharpen it once. If anyone is looking for a good blade I can only recommend them!
(I did not get paid for writing this review,nor did I get the knives for free!)
Comment from Don Noon. Hi John, I finally got around to using the knife for a few things. Works great, gets sharp and stays sharp. The grain structure seems to be extremely fine, much finer than my HSS hacksaw converts, and polishes up nicely. It's a bit too thick for getting into the tightest parts of the F-holes, and too thin for really heavy hogging... but that covers most of the tasks. Thanks for my new favorite knife.


-dn
Comment from Jordan Hess: Hi John, Here's a photo of the finished bridge knife and handle. Thanks again for making it. It's by far the best bridge knife I've ever used!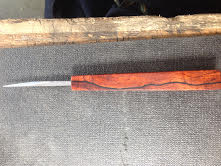 Comment from Matt Noykos, (Matt's website):The knife blades I got from you are working very well. I did a few neck shapings with one of them and didn't even have to sharpen it in between.
Comment from Brian Lisus, Santa Barbara, CA: Really easy to sharpen and seems to have a wonderful edge ... I will show it to my students to see if there is any interest.
Comment from Ryan Fini, Albuquerque, NM: I am writing you to let you know how much I love the wonderful knives you made for me. My apologies for the belated reply, but after making various handles and tweaking the edge shapes (you know how it goes), I have finally come to a place where they have fully replaced my old Japanese ones. I am now using them every day and can fully appreciate the steel quality. They hold an edge extremely well and are not difficult to sharpen. If you are interested and/or have the time, I would very much like to order some more knives from you.
Here is a pic of the tapered 19 mm knife It is 19 cm long.: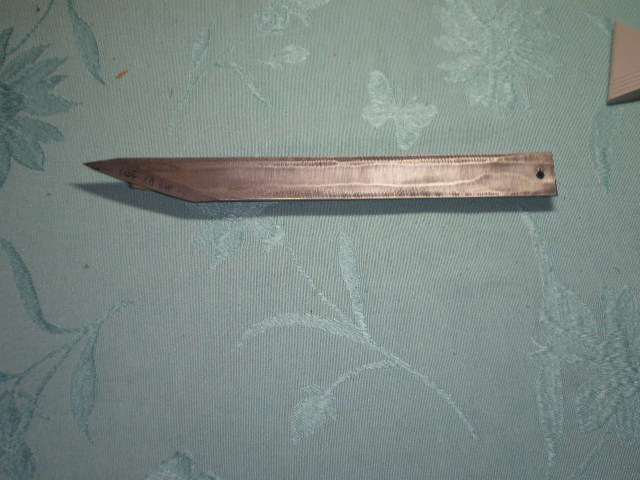 To sharpen the violin knife with a curved edge, see here.